Power Query Transform Column Challenge: Stacked Data to Ordered Table
Published Thursday, February 2, 2023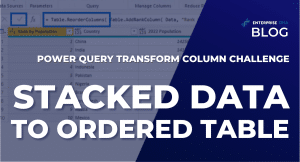 This blog will examine the Stacked to Ordered Data Challenge from Excel BI, involving the Power Query transform column to table functions. The task is to turn a single column of data into a proper table where each type of data has its column and subsequently will add a rank on population. You can watch the full video of this tutorial at the bottom of this blog.
This Excel BI challenge is a great opportunity to practice and hone your skills in Power BI and using Power Query tools.
Continue reading Power Query Transform Column Challenge: Stacked Data to Ordered Table at Enterprise DNA.
Continue to website...