COALESCE Operator: Power Query Application
Published Thursday, February 2, 2023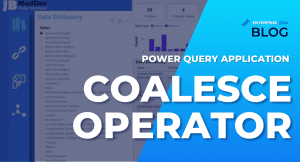 This tutorial will demonstrate how to use the COALESCE operator in Power Query / M language by examining two practical problems. You can watch the full video of this tutorial at the bottom of this blog.
The COALESCE operator is represented by a double question mark (??). This operator works similarly to the or operator in Python or the default function in the Power Query M Language.
Continue reading COALESCE Operator: Power Query Application at Enterprise DNA.
Continue to website...